Welcome to our site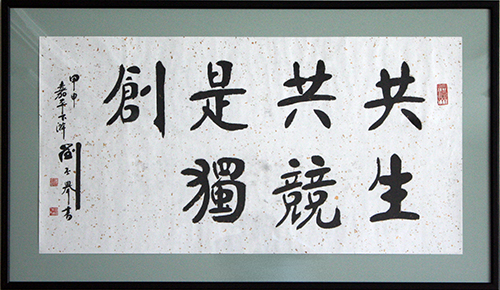 It is 29 years since our company restarted operations as Ferric Inc., a research & development company. During these years, in order to carry out our corporate motto, "Contribute to the international society by evolving the cultures into our products," we have dedicated ourselves to materialize the products that will create the most suitable circumstances for the biological objects by controlling the temperature and the moisture.
As we try to make the optimal circumstances for the human bodies as well as for preserving and transporting agricultural products by local warming, it has been always on our mind to bring out such products as are deeply rooted in the Japanese traditional culture and can provide "feeling of safety," not to mention "safety" itself, and thus to contribute to the international societies. Lately we are also putting our efforts on more design‐oriented products by orchestrating the Japanese and the western cultures together.
All of us at Ferric are working with our company philosophy in mind, "Creativity is born from both mutualism and competition; the former will bring about the feeling of security to live together and the latter will impose the seriousness." We will keep developing the materials of originality as well as proposing the products of both functionality and good design and thus to contribute to fuse the world.
President Eiji Miyashita
Corporate Profile
Name
Ferric Inc.
Head Office
2F WELL2 Bldg., 3-12-3, Tsukiji, Chuo-ku, Tokyo
TEL:+81-3-3545-3541
FAX:+81-03-3545-3542
Foundation
March, 1978
Capital
19.5 million yen
President
Eiji Miyashita
Banks of Account
Ashikaga Bank (Oyama Branch)
Japan Finance Corporation (Tokyo Branch)
Shoko-chukin Bank (Tokyo Branch)
Mitsui Sumitomo Bank (Tsukiji Branch)
Mitsubishi Tokyo UFJ Bank (Tsukiji Branch)
Mizuho Bank (Hamamatsu-cho Branch)
Major Clients
S.T.MYCOAL CO.,LTD, Shiraishi Calcium, Sanpo Kagaku, Kiribai Kobayashi Pharmaceutical, Hefei Kobayashi Pharmaceutical Co., Ltd., FAXCIM
Major Suppliers
Shinwa, Mitsubishi Chemical Corporation, J-Film, Sun A. Kaken, Toyochem, Shiraishi Calcium, DuPont-Asahi Flash Spun Products, Ebisu kako, SHINKO-LAMI Co., Ltd.
Major Products
・Production, marketing and technical guidance of the materials for disposable air-activated body warmers, "Kairo"
・Development of medical hyperthermic products, and production and marketing of such raw materials and resources
・Development, production and marketing of medical supplies
・Development, production and marketing of particular packing materials
Employees
31
Corporate History
March, 1978

Sun Technicals Co., Ltd. was founded for producing and marketing the petro-chemical products
as well as its technical guidance. As an outcome of its projects, the technology of disposable
air-activated heat packs was established.

April, 1982

Sun Technicals participated in SC Jhonson' s project for developing air-activated body-warmer
for medical use.

April, 1984

The joint research for hyperthermic objects for medical use was started with the Industrial
Technology Institute of Tokyo University.

June 1st, 1985

Company name was changed to Ferric Inc.

August, 1987

Medical device "Thermoship," the air-activated heat plaster, was developed and started
distribution to the medical institutions with the technical guidance.

April, 1989

Ferric started the production of "adhesive packing objects for air-activated heat plasters".

April, 1991

Jointly developed with Mitsui Chemical and Shiraishi Calcium, Ferric started the production of
the moisture-control-film "MC Film".

August, 1994

Production of "the adhesive packing objects for medical use" was started.

1996

Basic study for DDS by heating was started with the Faculty of Computer Science and Systems
Engineering of Kyushu Industrial University.

1997

Joint study for the physiology of heating was started with Research Institute of Environmental
Medicine of Nagoya University.

December, 2001

Department of Patent Management and Strategy was separated and Scylix Inc. was established
with the cooperation of Scylix Patent Office,.

March, 2005

Private Ltd. Company, Ferric's Laboratory, was merged.

June, 2005

Oyama Development Center was opened.

June, 2011

Head Office was moved to the present address.

November, 2012

Production and distribution of "Hoteat" were started.

December, 2012

Shanghai Ferric International Trading Co., Ltd. was established